CarCopter
From Combustory
(Difference between revisions)
 

 

Line 3:
Line 3:
 

== A Helicopter made from car parts? ==

 

== A Helicopter made from car parts? ==

 
 
−

[[image:Carcopter]]

+

[[image:Carcopter]]

 
 
−

Contact: combustor@combustory.com

+

.

 
 
 
+
 
 
−

<big>'''Categories'''</big>

+

'

 
 
−

* [[Motorcycles]] (Coming)

+
−

* [[Cars]]

+
−

* [[Trucks]] (Coming)

+
−

* [[Tractors]] (Coming)

+
−

* [[Earth Movers]] (Coming)

+
−

* [[Tanks]] (Coming)

+
−

* [[Airplanes]] (Coming)

+
−

* [[Jets]] (Coming)

+
−

* [[Rockets]] (Coming)

+
−

* [[Helicopters]] (Coming)

+
−

* [[Locomotives]] (Coming)

+
−

* [[General Electronics]]

+
−

 

+
−

== Creators Note ==

+
−

 

+
−

 

+
−

== Links ==

+
---
Latest revision as of 17:28, 25 August 2008
Welcome to Combustory

Any questions or comments:
Send them to - combustor@combustory.com
A Helicopter made from car parts?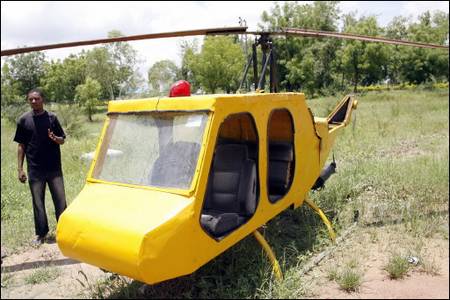 That's right! Mubarak Muhammad Abdullahi takes old cars and motorbikes to pieces in the back yard at home and builds his own helicopters from the parts. He is a 24-year-old physics undergraduate in northern Nigeria and he has found the right formula for turning cars into helicopters. This is more than just a hobby for him, it is a sense of national pride. He has been trying to get support from the Nigerian Government as well as other wealthy countrymen. Although some government officials got very excited when they saw him conduct a demonstration flight in neighbouring Katsina state, Nigeria's Civil Aviation Authority (NCAA) has so far shown no interest in his aircraft. The chopper, which has flown briefly on six occasions, is made from scrap aluminium that Abdullahi bought with the money he makes from computer and mobile phone repairs, and a donation from his father, who teaches at Kano's Bayero university.
Abdullahi explained from the cockpit, "You start it, allow it to run for a minute or two and you then shift the accelerator forward and the propeller on top begins to spin. The further you shift the accelerator the faster it goes and once you reach 300 rmp you press the joystick and it takes off." For a four-seater it is a big aircraft, measuring twelve metres (39 feet) long, seven metres high by five wide. It has never attained an altitude of more than seven feet. It is powered by a second-hand 133 horsepower Honda Civic car engine and kitted out with seats from an old Toyota saloon car. Its other parts come from the carcass of a Boeing 747 which crashed near Kano some years ago.
This is not the end of this bright young man's career. He is working on a second model that is supposed to double the performance of his first one. He expects this new model to fly 15 feet for at least three hours. To learn more about this respectable accomplishment: